Extraordinary Delving and Cartography Co. (Part 1 & 2)
Article By: Rachel The Icemaiden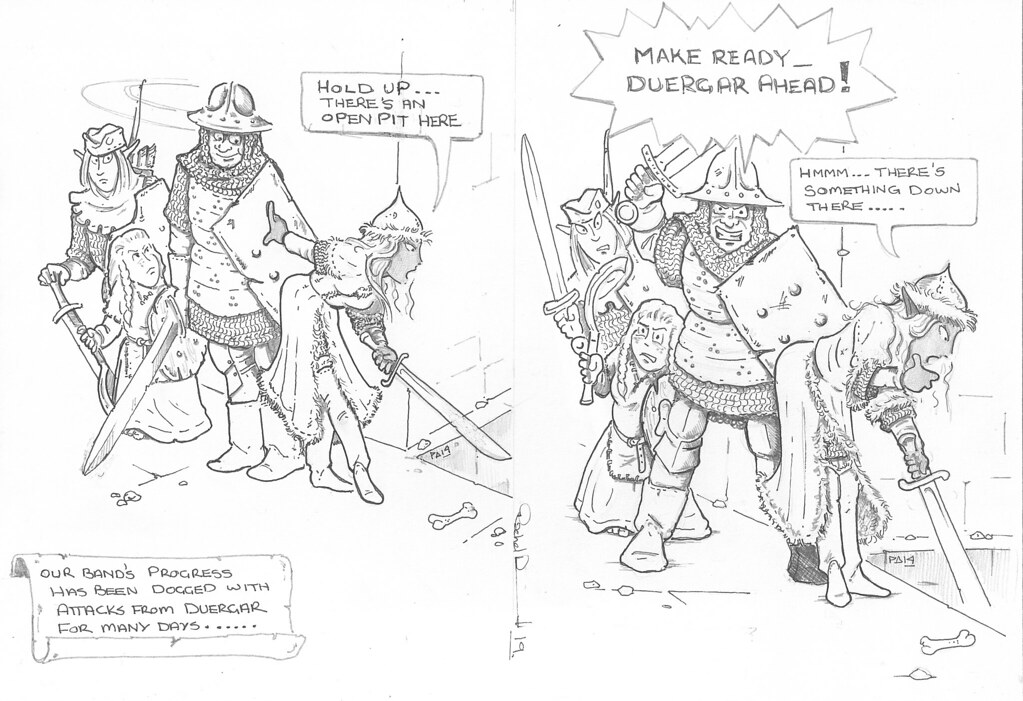 I've been playing in my brothers 1e (with houserules) adventure along with my sister-in-law and a couple of friends since the Christmas holidays. During sessions I doodle some of the action and I've started to develop these into a strip charting the party's progress. I shall be sharing these in this thread - updates will be when I get the time to put pen to paper. Should be noted that these are "cartoons" and I'll be using some artistic license but the spirit of what happens at the table will always be there... Party: Byon of Athfort Human Fighter - Level 3 Aeife Green-oak Halfing Druid - Level 3 Ellodin Afoncoed High Elf Fighter/MU - Level 2/2 Arilith Dorchabas Drow Fighter/MU - Level 2/2 Gorimm (NPC) Dwarf Cleric - Level 3 Part 1 - Hollow Hills Background: The party have been hired by a Whitehaven noble family to rescue their son whom they believe has been kidnapped by a rival family and taken to the port town of Finwyrm to be sold into slavery and taken overseas. The party have left the town of Whitehaven and to reach Finwyrm they would either have to cross a mountain range or take a very long route around them. At the foot of the mountains they came across a settlement of gnomes who had been troubled by bands of goblins and hobgoblins who had taken up residence in an old deserted hillfort. During the clearing of the hillfort the party found an old map which showed a series of tunnels and passages leading through the mountains themselves. They have been in these passages for some days now their progress being dogged by increasing numbers of Duergar. They have lost the cleric Gorimm during one fierce melee and although not finding his body believe him to be dead. We join them as they reach a junction in the passage. An open pit is evident in the secondary passage and further down it are fallen boulders where some of the walls have collapsed..... Arilith on point Ellodin guarding the rear. Note: During the course of the action Arilith, standing right at the lip of the pit, had to make a dexterity save or loose her footing. A roll on d20 of her dex score or under was required to be successful. She has a dexterity of 17... I rolled an 18.
The Seven Shrines of Nav'k-Qar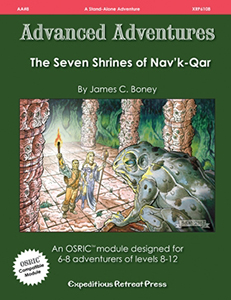 The Seven Shrines of Nav'k-Qar is An OSRIC(tm) module designed for 6-8 adventurers of levels 8-12. Nav'k-Qar! A name lost to antiquities and feared only by scholars who know of the dread toad god's former power... once surrounded by a cult which performed the most vile and evil acts in his honor. Now that all of his followers are long dead and the temples of the Gray One completely destroyed, the final resting place of the cult's last riches has been a source of speculation for generations. At long last, one scholar discovered the location of that elusive shrine, the greatest one of all... the fabled Seven Shrines! Do you have the strength, knowledge and skill to penetrate the horrors of that dread place and wrest the vast treasure from the jaws of the Gray One himself?
Undead In AD&D Part 2
By: Larry Hamilton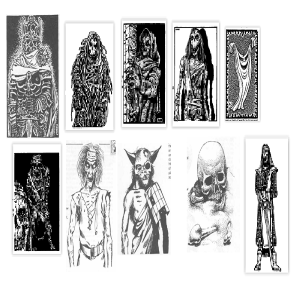 Yesterday, I wrote a bit about Undead in AD&D, with a focus on the Monster Manual and Dungeon Master's Guide. I got a lot of likes and comments on it, some wanting to see what I had to say about the Fiend Folio.
The Red Mausoleum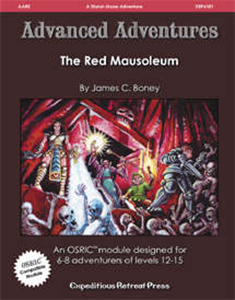 The populated regions north of the Sistermoors have enjoyed over a century of respite from the wars that once plagued the area. However, within the past year, baronial patrols have reported clashes with undead and other dark creatures brave enough to strike out from the moors into the forests of men and elves. The Baron's sage suspects that the undead issue out of the mysterious ancient landmark known as the Red Mausoleum located somewhere on the wild stretches of the moors! This module includes 16 adventure-packed pages, complete with detailed maps and descriptions, forming a ready-made adventure.
Druids and Undead
By: Larry Hamilton
Druids in First Edition AD&D do not have the ability to turn undead. Other than physical combat or druid spells, druids are just like anyone else when it comes to undead.
Undead In AD&D
By: Larry Hamilton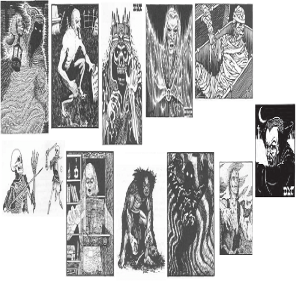 I was reading up on the various undead in the Monster Manual, and noted which ones in their descriptions specifically mentioned throwing holy water on them would hurt them.
MontiDots Ltd
By: Simon Todd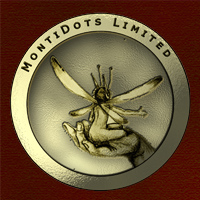 We are about writing, illustrating and publishing table top role-playing games. MontiDots is a collaborative venture between three friends incorporating passions, skills, ideas, creativity and fun. Through OSRIC we have published a series of adventures for various levels of play from low level exploratory dungeons to grim survival adventures in upper layers of hell.
OSRIC
By: Stuart Marshall
OSRIC: Twelve years, and still no kickstarter.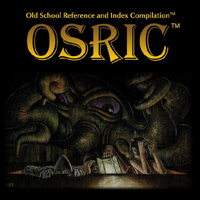 Helping you to publish original material for use with the game Gary Gygax wrote.
Magical Protections In AD&D
By: Larry Hamilton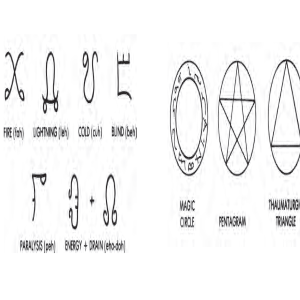 This is the third part in a three part series of articles spawned by my research into undead in AD&D.
The Flaming Footprints of Jilanth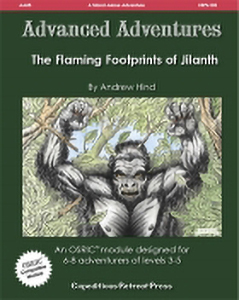 Advanced Adventures #5: The Flaming Footprints of Jilanth is an OSRIC(TM) module designed for 6-8 adventurers of levels 3-5. A short time ago, the Lord Admiral of Ranste suddenly disappeared. Now the streets of this thriving trade port are filled with bare footprints that dance with ghostly green flames, the signature of the long-dead pirate Firebeard. Has the dreaded buccaneer come back from the grave to haunt the city that hounded him to his grave? The Ranste Council fears the worst, and has hired a band of adventurers---the PCs---to determine the truth behind the unsettling happenings. To that end, the PCs have been sent to the abandoned pirate-cove on the tropical isle of Jilanth to ensure that Firebeard has not returned to his old haunt. If indeed he has, the PCs are to use all the resources at their disposal to send the cut-throat back to hell!
Follow Me And Die!
By: Larry Hamilton
I am a long-time gamer. I started with the Holmes Blue Box set of "Basic D&D" that only went to third level, back in March or April, 1977. I then moved on to AD&D, anxiously waiting as each book was released, reading every word as quickly as possible.
The Chasm of the Damned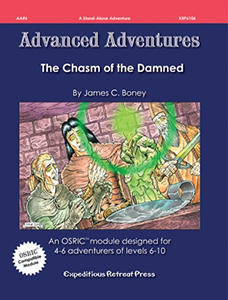 Every inn hearth is ringing with chatter and every guildhall is silently watching and preparing. Nobles are equipping adventuring parties, and religious orders are hiring sword arms to be at the ready. All of this activity centers around one fact: this is the month that the legendary Chasm of The Damned returns. The Chasm is never late; once every 37 years, in this month, a mysterious gorge riddled with caves and populated by strange creatures appears somewhere within 200 miles of the spot in which legend says it originally sat. It stays for exactly 108 hours then slowly fades away... taking with it anyone who does not escape in time. The Chasm's return is soon at hand; sometime this month it will appear and various groups stand ready to pounce should the Chasm be within a quick travel distance. Regardless of the veracity of legends, elder adventurers who have journeyed into the Chasm and returned always give three pieces of advice: bring a cleric, bring plenty of sacks, and don't be in the Chasm after 108 hours.
The Curse of the Witch Head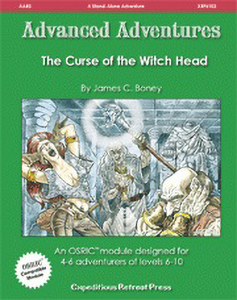 Advanced Adventures #3: The Curse of the Witch Head is a 12-page OSRIC(TM) module designed for 4-6 adventurers of levels 6-10. Over two cenuries ago, the Duke Ithinge ordered an underground complex to be built to house the Witch Head and keep it from those who would use its powers for evil. The construction of the complex was performed in a remote and secret place, its chambers and corridors filled with traps and terrors devised by his new court wizard. With the complex completed, the laborers were enchanted to never reveal its location. He knew he could not destroy the Witch Head, for it was forever linked to the vitality of his family line; its power was fueled by the evil deeds of his fore bearers, and it was written in legend that the heir who destroyed the relic would be the last of the line. Last month, good Duke Ymis, received a secret message from a band of outlaw adventurers: the Witch Head had been discovered! The outlaws swore that unless the Duke hands over to them his only heir, his daughter Derica, they would use the powers of the relic to wreak havoc on the countryside and bring his rule to a crashing end. Can a hardy band of adventurers put down the ancient evil or will it rise again?
The Sarcophagus Legion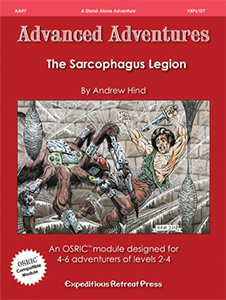 The Sarcophagus Legion is An OSRIC(tm) module designed for 4-6 adventurers of levels 2-4. Sultan Mehmet rules his desert kingdom with absolute power, save for the trackless wastes of the interior where the authority of his army and bureaucrats holds no sway. The nomadic dervishes that call this inhospitable sea of sand their home recognize no authority greater than the warlord who leads their individual band. Sultan Mehmet is viewed with contempt by these barbarians, and the instruments of his rule are attacked whenever the opportunity presents itself. The two people are effectively at war, and have been for centuries. Recently, Sultan Mehmet's beautiful wife Syriana fell into the grasp of the dervishes when the caravan with which she was traveling came under attack. Now, her desperate and humiliated husband has turned to courageous and resourceful adventurers to see to it that she is returned safe and unharmed.
Expeditious Retreat Press
By: Joseph Browning
You like modules? We got modules. Lots of them.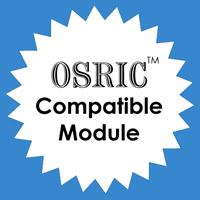 Expeditious Retreat Press has been creating OSRIC-compatible material since 2006. We've released 43-and-counting modules in the Advanced Adventures line, 2 monster books in the Malevolent and Benign series, and plan to continue releasing OSRIC-compatible material until the wheels fall off. In 2020 we'll release The Halls of Arden Vul. The largest OSRIC-compatible megadungeon! With 10 levels, 15 sub-levels, and nearly a million words in length, it's going to be a right beast!
OSRIC SRD
All of the OSRIC rules in one place
Cultists of Yox
By: EOTB
It's a game of chicken when the DM is the crazy one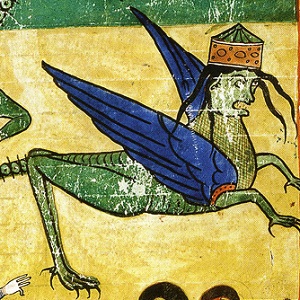 As grodog mentioned at his blog, I'm hip-deep in keying out the dungeon level of Twisting Stair #1 for use in my home campaign (and for a prospective Roll20 online campaign). It's coming along nicely, although not quite finished in a shareable state. One thing I like about the Twisting Stair zine is how it drops a tidbit without fleshing out the details. I find it just enough to jump start my creative process while leaving me completely free to follow my imagination. One example of this was the "Cultists of Yox" found on the Wandering Pairings random encounter table. As a little teaser of what turned out to be a major faction in my adaption of the 1st level Twisting Stair dungeon map, here my take on the Cult of Yox...
The Blue Bard
By: Anthony Huso
OSRIC Supplements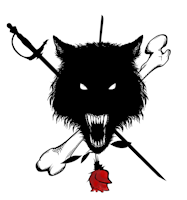 I play AD&D. My goal is to help you play AD&D, Rules-As-Written, not only so that a wonderfully byzantine time in gaming isn't lost, but so that you can have as many stories and as much fun I and my crew have had over the years.
My Personal Rules as a Player
By: EOTB
It's a game of chicken when the DM is the crazy one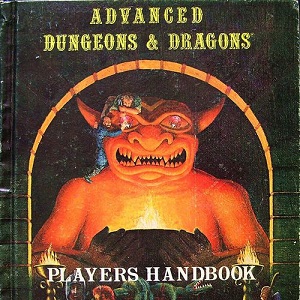 1) I do not hoard my wow-bangs. If I die with a sheet full of magical items or spells, then I played in vain. I am not here to advance a character, I am here to make fun memories with people I enjoy spending time with...(click above for more!)
New rules for clerical strongholds
By: EOTB
It's a game of chicken when the DM is the crazy one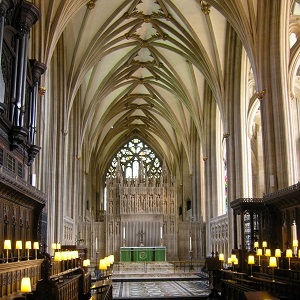 When a cleric reaches 8th level, the place of worship described must be built within the civilized realms of