8 Reasons To Check Out OSRIC
By: Louis "sirlou" Kahn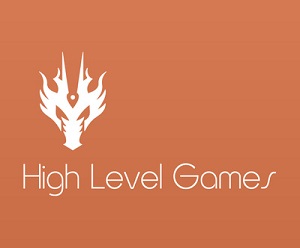 The OSRIC RPG, short for Old School Reference and Index Compilation, is a fantasy role-playing game system. OSRIC is what is known in the Old School or OSR (Old School Renaissance) movement, as a retro-clone, in that it is a faithful, as much as legally possible, recreation of the First Edition of the world's most famous role-playing game, Advanced Dungeons & Dragons.
AD&D Complexities A Left-handed View of AD&D
By: Rick Steeves
It's Complicated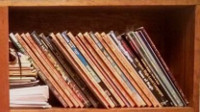 Ever spent two hours figuring out the results of chain lightning and two characters with rings of spell turning? Welcome to investigating the intricacies of D&D complexities.
MontiDots Ltd
By: Simon Todd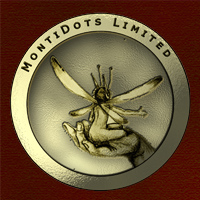 We are about writing, illustrating and publishing table top role-playing games. MontiDots is a collaborative venture between three friends incorporating passions, skills, ideas, creativity and fun. Through OSRIC we have published a series of adventures for various levels of play from low level exploratory dungeons to grim survival adventures in upper layers of hell.
EOTB
It's a game of chicken when the DM is the crazy one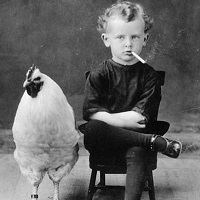 Approach: gamist over simulationist Appeal: player skill over character skill Aesthetic: Heavy Metal: the Movie over fantasy geographic My games and writing center around sandboxing between urban, wilderness and megadungeon play; and also a heavy dose of other-planar. Quirks include an irrational love of treasure maps, and using the DMG unarmed combat tables. Dice openly rolled to the fullest extent possible. Illusions are real to the character if the player responds except to disbelieve. Gandalf was just a 5th level wizard, prove me wrong.
A Book of Miscellaneous Spells II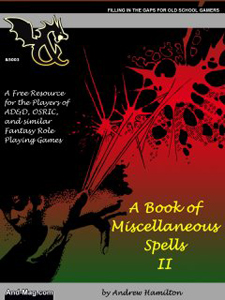 The & Publishing Group is pleased to announce the publication of Andrew Hamilton's second collection of Old School Gaming spells - A Book of Miscellaneous Spells II! This book of spells is designed for Advanced Dungeons & Dragons (AD&D) and OSRIC but is compatible with most Old School Dungeons & Dragons (D&D) games and their retro-clones. This volume contains more than 110 brand new spells for the four AD&D spell casting classes. This includes more than 30 spells for clerics, druids, and illusionists - plus 78 new magic-user spells of all levels. [Yeah, Andrew has a thing for magic-user spells!] That's enough, right? Right? Wrong. This collection includes spells for the Witch NPC class (from Dragon Magazine issue #114), one of Andrew's favorite NPC baddies. Plus it contains spells for clerics of the Cult of Juiblex. Never heard of this cult? It will be a nasty surprise for your players! If that isn't enough, look for the spells for Frost Giant and Gnoll shaman! Bad guys need more power to combat those dratted forces of Good! This gives it to them ... All told, this volume contains more than 150 new spells for use with all the D&D games of the 70's and 80's and their retro-clones.
The Mystical Trash Heap
By: Trent Foster
A blog about D&D and other 80s-era pop culture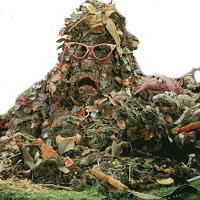 My infrequently-updated blog ostensibly covering the entire gamut of 80s-era pop culture but in practice focused mostly on D&D, specifically Gary Gygax-flavored 1st edition AD&D and the World of Greyhawk. Occasional house-rules and new crunch (spells, monsters, items, etc.) are posted alongside reviews and retrospectives, reminiscences, philosophical musings, polemic rants, and other standard blog fare.
HU1 The Night Wolf Inn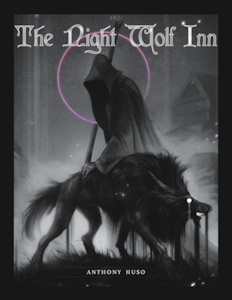 The Night Wolf Inn is a sand box experience for 1st Edition RPG Gaming. It is a tavern and a universe unto itself; a place of powerful dweomers, secret doors, lost gods, hidden dimensions and dangerous artifacts. The Inn's mysterious backstory holds the sandbox experience together. The Night Wolf Inn fits snugly into any campaign, occupying only the space of its buildings and lawns. It is also intended to be fully customizable. Includes: Fully detailed maps and locations of the Inn featuring four floors, outdoor property, and extra-dimensional spaces. Partially detailed launch points into over twenty pocket dimensions and parallel worlds. Many new magic items, treasures, artifacts, monsters, demons, gods, NPCs, races, languages, and myths. Beautiful art. Player and DM versions of relevant maps. Player handouts. Quick reference cheat sheets.
HU2 A Fabled City of Brass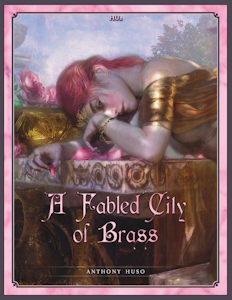 NOTE: You must own City of Brass Appendices to use this module! The Fabled City of Brass, proclaimed in legend to inhabit the deserts of Andalsuia-and elsewhere-was long ago conscripted for use in fantasy role playing games. Its presence in the genre has arguably made it shopworn and tired. But if we return to the original text, most commonly associated with the Thousand and One Nights, we may be surprised to find something much different than a city of stomping Efreet. The setting of this module is one of spectral beauty and foreboding. It is a city with a lesson; filled with empty streets, great riches, automatons, illusions and death. Here is a module to hurl characters of 12th level and higher against. You will either break them or turn them into legends on par with the City of Brass.
Expeditious Retreat Press
By: Joseph Browning
You like modules? We got modules. Lots of them.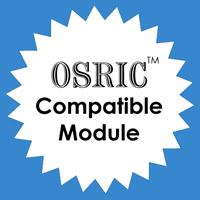 Expeditious Retreat Press has been creating OSRIC-compatible material since 2006. We've released 43-and-counting modules in the Advanced Adventures line, 2 monster books in the Malevolent and Benign series, and plan to continue releasing OSRIC-compatible material until the wheels fall off. In 2020 we'll release The Halls of Arden Vul. The largest OSRIC-compatible megadungeon! With 10 levels, 15 sub-levels, and nearly a million words in length, it's going to be a right beast!
Rage from the Waves
What horror from the depths is leaving ships adrift, cargo untouched, stealing the crews for some unspeakable fate? Lost ships. Missing crews. Disappearing cargo. The King is not pleased, and it's your job to find out what happened and bring a stop to it! To do so you'll have to unravel a mystery that's stumped the king's advisers. Clues? one ship that made it back with a stabbing spear of unusual design and some odd blood on the deck. Four to eight characters of 4th to 7th level will figure out the mystery. The adventure includes two completely detailed businesses, a full set of deck plans for a carrack, a second set of partial plans providing design variations, and an island with room for additional adventuring if you so desire. Add to this over 80 fully documented characters for use in this and other adventures, including several ship's crews, and you have an adventure that is also a resource.
Cultists of Yox
By: EOTB
It's a game of chicken when the DM is the crazy one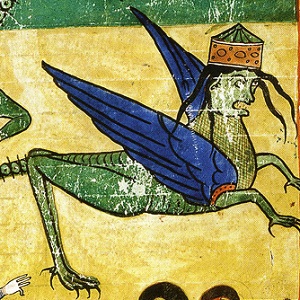 As grodog mentioned at his blog, I'm hip-deep in keying out the dungeon level of Twisting Stair #1 for use in my home campaign (and for a prospective Roll20 online campaign). It's coming along nicely, although not quite finished in a shareable state. One thing I like about the Twisting Stair zine is how it drops a tidbit without fleshing out the details. I find it just enough to jump start my creative process while leaving me completely free to follow my imagination. One example of this was the "Cultists of Yox" found on the Wandering Pairings random encounter table. As a little teaser of what turned out to be a major faction in my adaption of the 1st level Twisting Stair dungeon map, here my take on the Cult of Yox...
Goblin's Henchman
I Don't Have It With Me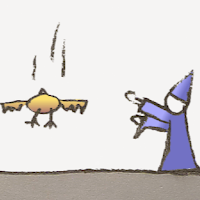 RPG Blog, which is mainly AD&D centric. Some RPG spreadsheets.
A Book of Miscellaneous Spells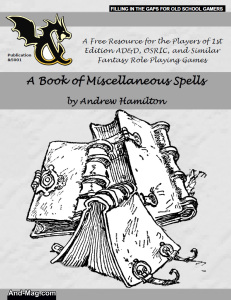 A Book of Miscellaneous Spells is a free resource for players of the Advanced Dungeons & Dragons fantasy role playing game and OSRIC, consisting of over 120 spells including some previously seen in & Magazine and Dragonsfoot's Workshop forum, as well as never before seen spells. This resource is designed to give players and DM's of AD&D and OSRIC games new spells and ideas to incorporate into their game or provide inspiration for new avenues of adventure. This resource includes spells for clerics, druids, magic-users, and illusionists.
OSRIC
By: Stuart Marshall
OSRIC: Twelve years, and still no kickstarter.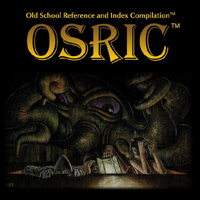 Helping you to publish original material for use with the game Gary Gygax wrote.
Book of Low Level Lairs Volume I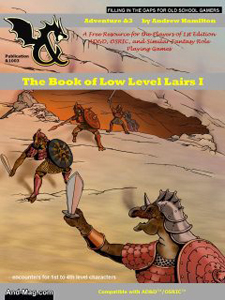 You have a newly minted 1st level party? You need ideas? What adventures will you run for them? Look no further! This adventure collection includes 18 new mini-adventures for parties of levels 1 to 4. Everything from brown bears to giant porcupines to kenku and lizard men! All mini-adventures that can usually be run in a single session. Pick the ones you need, string them together as you see fit! The bonus? Two new cleric spells suitable for low level parties! Download this adventure in the next 20 minutes for the low, low price of $0.00! As old school gamers we use our imaginations to fill in all the gaps. But let's be honest, having a good visualization, like Chris Letzelter's firenewt cover, helps with the imagination ...
OSRIC (Original PDF)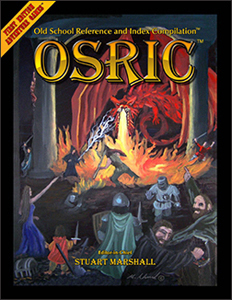 A complete fantasy role playing game in one volume, which includes: 413 spells 285 monsters 331 magic items Official OSRIC character sheet template Character creation rules for 7 races and 9 classes Complete rules and tables for adventuring, exploration, and combat Over 100 original, never before published, illustrations
The Clerics in Groat's End
By: EOTB
It's a game of chicken when the DM is the crazy one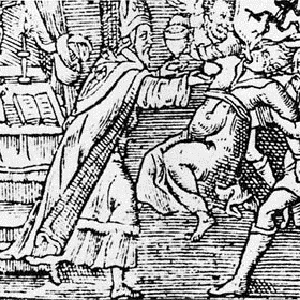 Comonoc the Spry Cleric of Xan Yae, 11th level S 4, I 15, W 18, D 3, CH 15, AC 10, HP 39, AL N Psionic Ability 150 (75 att/75 def) attack modes: psionic blast, mind thrust defense modes: mind blank, mental barrier Disciplines: (minor) domination, ESP, object reading, precognition; (major) energy control Spells normally memorized: (7/6/5/4/2/1) command, CLWx2, light, remove fear, sanctuary, augury, hold person, messenger, slow poison, withdraw, wyvern watch, cure disease, dispel magic, magical vestment, meld into stone, speak with dead, implore, CSW, divination, PFE 10' rad, commune (if unable to memorize commune then golem or insect plague instead), true seeing. old, sane, precise, violent, diplomatic, cheerful, active intellect, hard-hearted, intellectualist, scrupulously honest, interested in husbandry and athletics Comonoc is an emaciated, legless whisp. He's well-regarded by the poorer masses because of his frequent assistance to sick or injured children and his financial support of the soup kitchen. Although the town isn't particularly fervent, Comonoc is influential while working quietly towards his own ends, which are invested in the status quo. He often changes the course of events small and large without anyone being the wiser...(click above for more!)
Magic-Users in Groat's End
By: EOTB
It's a game of chicken when the DM is the crazy one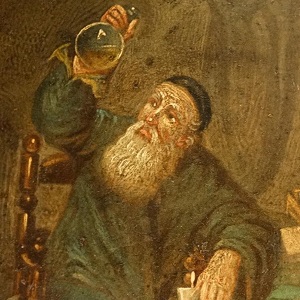 The Lady Cynewise Human M-U, 12th level I 18, W 13, C 6, CH 16, AC 6, HP 18, AL LE middle-aged, foppish appearance, very stable, helpful, inquisitive, extroverted, friendly, sensitive, brilliant, vengeful, greedy, truthful, craven, spendthrift, amoral, saintly (in the context of lawful evilness), interested in: legends, collector of porcelain/china/crystal Notable equipment: Ring of protection +2, Bracers AC 8, ring of invisibility, wand of paralyzation, staff of command, other magic as determined by the DM Decription: Cynwise is eternal in the eyes of your average Groat's End citizen. Well over 200 years old, she both founded the town and removed herself as its titular ruler outside of living memory. Now she's more like a force of nature: outside the law, inside the walls, and beyond anyone's ability to resist. It's unknown how she manages to live on, by appearance in the prime of life, beyond all reasonable mortal allotment. While from a distance her alluring facade seems perfect, at arms length its unnatural strain subtly but surely contrasts with her demeanor - presented to the uninitiated as warm matronly concern. Those who fear her shadow falling across them if alone know her more fully: superior, demanding, punishing...(click above for more!)
Ol' Man Gorgnard Reviews 04 - OSRIC
By: Glen Hallstrom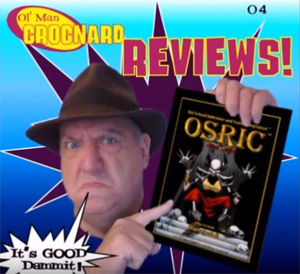 OSRIC? What the heck's an OSRIC? Let's find out.
Old School Role Playing
By: Joseph A. Mohr
Role playing the way it was meant to be
Old School Role Playing produces OSRIC material and other old school products for Drive Thru RPG. It also offers a blog with weekly articles on old school topics.